| | |
| --- | --- |
| | 11 |
---
TRAGEDY, COMEDY AND THE POLIS. Papers from the Greek Drama Conference, Nottingham, 18-20 July 1990
edited by Alan H. Sommerstein, Stephen Halliwell, Jeffrey Henderson, Bernhard Zimmermann, febbraio 1993, pp. 617, £. 120.000
The twenty-eight papers collected in this volume were delivered at the international conference on «Tragedy, Comedy and the Polis» held at Nightingale Hall, University of Nottingham, England, from 18 to 20 July 1990. Held in a heatwave which surpassed even the warmth of friendly feeling that distinguished it throughout, the conference was attended by over 130 scholars and students from twenty-one countries.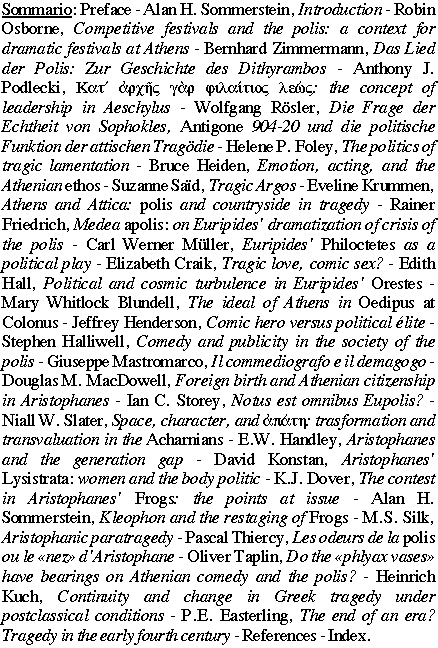 In copertina: Paestan bell-crater. Museo Provinciale, Salerno.
ISBN 88-7949-026-5
Readership: All those interested in the Greek Theatre.